I just took a trip to Brattleboro, Vermont to see my friend Amelia. We met at summer camp when we were 12 years old.

We are much more mature now.

Amelia's brother Bob and sister Elizabeth also live in Brattleboro. Here they are. Elizabeth is holding a picture of their other brother, Charlie, and his wife, Alice.

We drove out to the coast and stayed 3 nights in Hampton Beach, Hew Hampshire. From there, we did a bit of driving around. One day we drove north to York, Maine. Here is Amelia at Cap'n Simeon's Galley, where she got the world's best steamed mussels dirt cheap.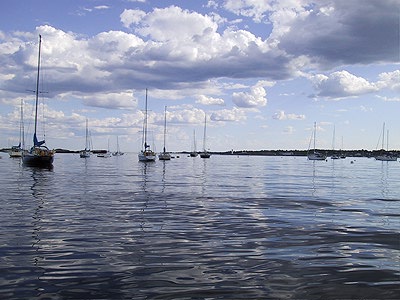 A lovely view in Maine.

Another day, we went to Salem, Massachusetts. We picked up some cute guys outside the Pirate Museum. The term "museum" is used very loosely in Salem. In any other town, the Museum of Myth and Monster would have been called a spook house. I dragged Amelia in there against her will.

We snuck onto the grounds of the House of Seven Gables, which was about to close down. It's very nice there, and we were sorry we were too late for the tour of the house itself.

The grounds at the House of Seven Gables are fairly extensive. They go down to the harbor and include many interesting plantings like this large arbor.

Amelia just had to have some radiation therapy done. The one good thing about this is that she has this totally cool radiation mask now. She is going to turn it into a work of art. Here is Harry helping her figure out where to cut the box it will go onto.

All in all, it was a great trip. Great to see the Hancocks again, great to wander around back east. I should do it again soon.